2021/2022 WTRS ENTRIES ARE OPEN!
Find the event you want to enter then click the "Enter" button at the bottom of the event.
For more information on the WTRS Events and to download the Event Supplementary Regulations: http://www.tarmacrallysprint.com.au 
IMPORTANT INFORMATION!
NSW STATE GOVERNMENT HEALTH REQUIREMENTS FOR EVENTS
The NSW Government Health Requirements for events is evolving and the exact nature of any restrictions may change in the lead up to the event. NSSCC will provide details of the requirements closer to the event.
Round 3 – Whiteline Tarmac Rallysprint 2021/22 - February
ROUND 3 - DATE CHANGED - NEW DATE: 17TH FEBRUARY 2022
COURSE: Approximately 3.54 km long, 100% asphalt

START/FINISH TIME: 6.00pm Start, Approx. 10:30pm finish

LOCATION: Sydney Dragway. Enter via Ferrers Road, Eastern Creek. Gate A

ENTRY FEES:

ADULT/JUNIOR ENTRY (for a Crew consisting of a Driver and Co-Driver): $255.00
OR 
ADULT ENTRY (for a Crew consisting of ONLY a Driver): $285.00

BEFORE YOU CONTINUE:
Please prepare as much as you can to save time (Motorsport Australia licence, NSSCC membership, car type etc) and be ready to pay at the end via credit card OR PayPal Account (NOTE you do NOT need a PayPal account to pay for this event)
YES, you can use "TBA" in many areas such as Vehicle details and Co-Driver details, but the more you complete now the easier for you and us.
WANT MORE INFO?
If you need more information, check out the event website: nsscc.com.au/twilight-rallysprint/ or email the Event Secretary: This email address is being protected from spambots. You need JavaScript enabled to view it. 
2021/2022 PROPOSED TRACK LAYOUT:
The proposed course for the 2021/22 Whiteline Tarmac Rallysprint. The red line is the proposed long course planned for the December, February and March rounds. The yellow shortened course will most likely be used during the November round due to Dragstrip surface requirements. It's looking like being a fantastic course with the extension through the new carpark.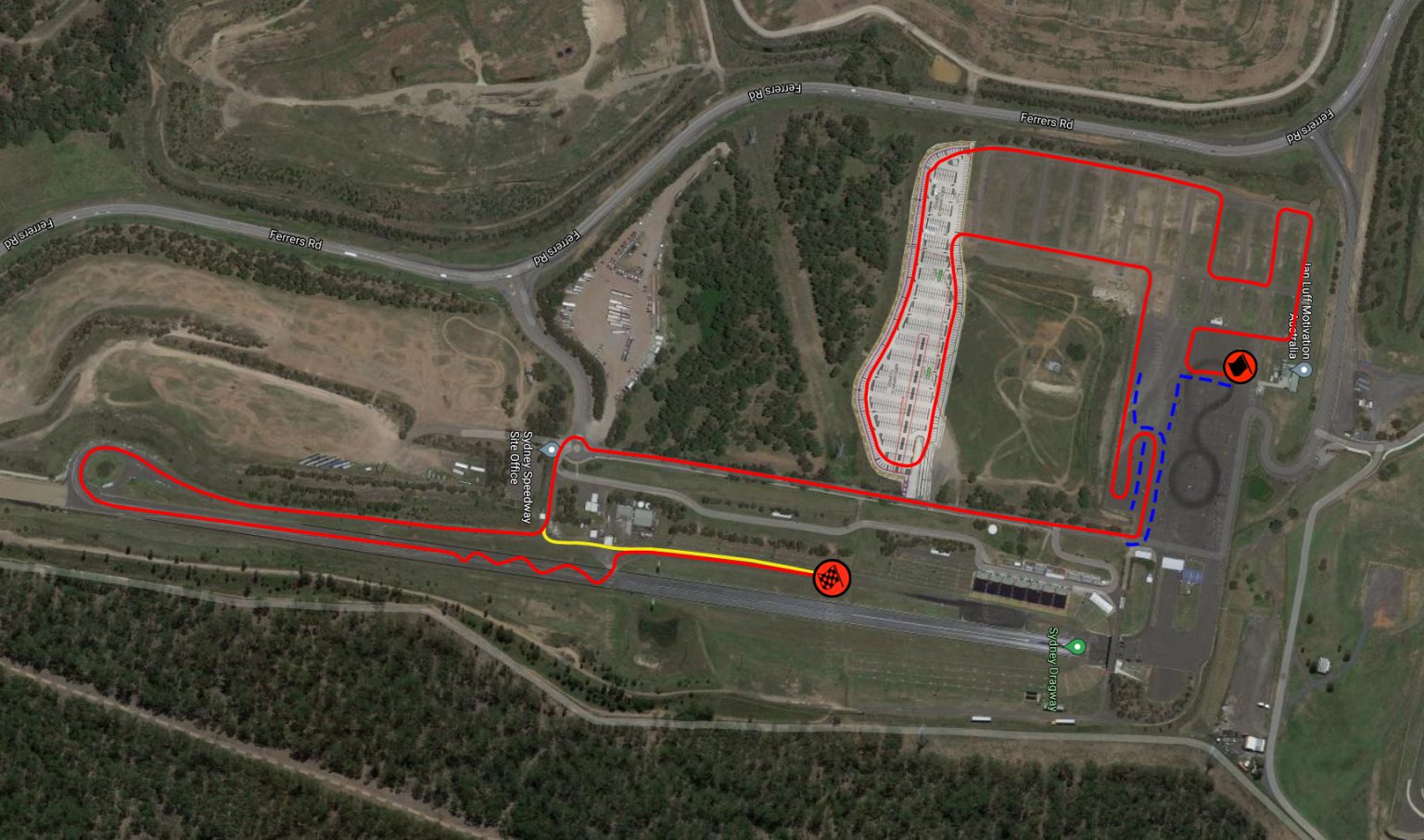 Round 4 – Whiteline Tarmac Rallysprint 2021/22 - March

ROUND 4 - 10TH MARCH 2022

COURSE: Approximately 3.54 km long, 100% asphalt

START/FINISH TIME: 6.00pm Start, Approx. 10:30pm finish

LOCATION: Sydney Dragway. Enter via Ferrers Road, Eastern Creek. Gate A


ENTRY FEES:


ADULT/JUNIOR ENTRY (for a Crew consisting of a Driver and Co-Driver): $255.00
OR 
ADULT ENTRY (for a Crew consisting of ONLY a Driver): $285.00


BEFORE YOU CONTINUE:

Please prepare as much as you can to save time (Motorsport Australia licence, NSSCC membership, car type etc) and be ready to pay at the end via credit card OR PayPal Account (NOTE you do NOT need a PayPal account to pay for this event)

YES, you can use "TBA" in many areas such as Vehicle details and Co-Driver details, but the more you complete now the easier for you and us.

WANT MORE INFO?

If you need more information, check out the event website: nsscc.com.au/twilight-rallysprint/ or email the Event Secretary: This email address is being protected from spambots. You need JavaScript enabled to view it. 

2021/2022 PROPOSED TRACK LAYOUT:

The proposed course for the 2021/22 Whiteline Tarmac Rallysprint. The red line is the proposed long course planned for the December, February and March rounds. The yellow shortened course will most likely be used during the November round due to Dragstrip surface requirements. It's looking like being a fantastic course with the extension through the new carpark.