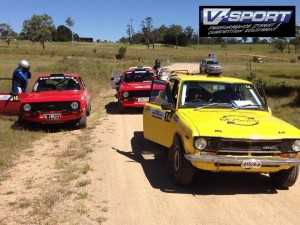 The V-Sport Caves Classic was always a very popular NSSCC Rally. A compact event held on only the best roads in the Jenolan / Hampton area and so close to Sydney, it was always a winning formula. With the forest being unavailable for rallying for some years, the roads are in best condition possible and we have chosen the best of the best for the V- Sport Caves Classic.
We are also very pleased to announce that V-Sport is once again supporting our DRS event. If you haven't considered V-Sport as your supplier of quality motor sport products and great advice, we certainly recommend them to you.
For this year's event, we have made the start time a comfortable late morning, which allows us to finish around sunset and allows plenty of time for most crews to travel home on Saturday evening. The event will be contested over 8 stages, with 118KM competitive distance, centralised service location and finish at hampton pub in the late afternoon/early evening.
In line with the concept of the DRS, the simple format of start, service and finish in the one location allows competitors to either share service crews or service the car themselves.
I'd like to confirm that as the V-Sport Caves Classic is not a part of the NSW Rally Championship, Frontal Head Restraints and driving suits are NOT mandatory at this event. However, we always recommend that competitors consider their own safety and consider the use of these proven items of apparel.
New in 2015 is the DRS4. Effectively, this is an entirely separate rally for the 4WD cars.
We thank Mick Harding from Techworkz for sponsoring the DRS again in 2015. Mick has always supported rallying and continues to be a hard working member of the Rally Panel. Please support Mick where you can to repay his generosity.
If you haven't registered for the DRS, DRS4 or HRS yet, you need to have your registration and payment details received by the Rally Panel at least by the close of entries. It is worth your while to register – particularly as you will receive discounted entry fees to all rounds during the year.
On behalf of the organising team, I would like to welcome you to the 2015 V-Sport Caves Classic.
Howard Grove
Clerk of Course
Link to Rally NSW web page for Supp Regs and Entry Forms
http://www.rallynsw.com.au/events/caves-classic-rally/
Other info on NSSCC on face Book here
https://www.facebook.com/NorthShoreSportingCarClub
Entries close Tuesday 14th April, 2015 at 18:00.  These must go to the event secretary only
All correspondence must be addressed to:
THE EVENT SECRETARY 2014 V-SPORT CAVES CLASSIC
c/o 61 Angophora Circuit
MT ANNAN NSW 2567
Or via email to: colflet@bigpond.net.au