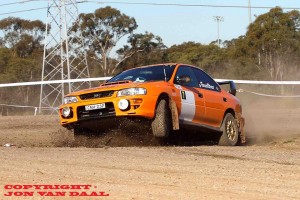 After a fantastic day of competition at Sydney Dragway the first NSSCC Gravel Rallysprint has been run and won and can be declared a tremendous success.
A total of 51 entries for a great day of competition and fun on a course I think most people really enjoyed. a great battle for outright honours ran all day between JJ Hatton and Jamie Neale, with Hatton taking the honours in the end.
We have learnt a few lessons from running  the first one  and would like to run a couple of gravel events there again during winter next year . Despite the course  being a little damp in places , the tracks generally held up well and  the good mix of conditions were well received.
Thanks to all the volunteers particularly our key officials, deputy C of C Howard Grove, our scorer Richard Houghton, secretary Michael Kent, Brett Middleton, Wayne Elven,Russell Dixon and Coral Taylor, as well as all the people that helped as marshalls and control officials. Thanks also to our sponsor, club member Steve Muller for helping out the event.
The results are here for all to see and we will be having a trophy  presentation at the NSSCC August  meeting at the Roseville Club on Monday 3 August at 8pm.
Now its on to the Rally of the Bay on 11 July  and our Summer Tarmac Twilight Rallysprints  starting again on 22 October.
Jon Thomson clerk of course and club president
NSSCC_27062015_Rallysprint FINISH ORDER