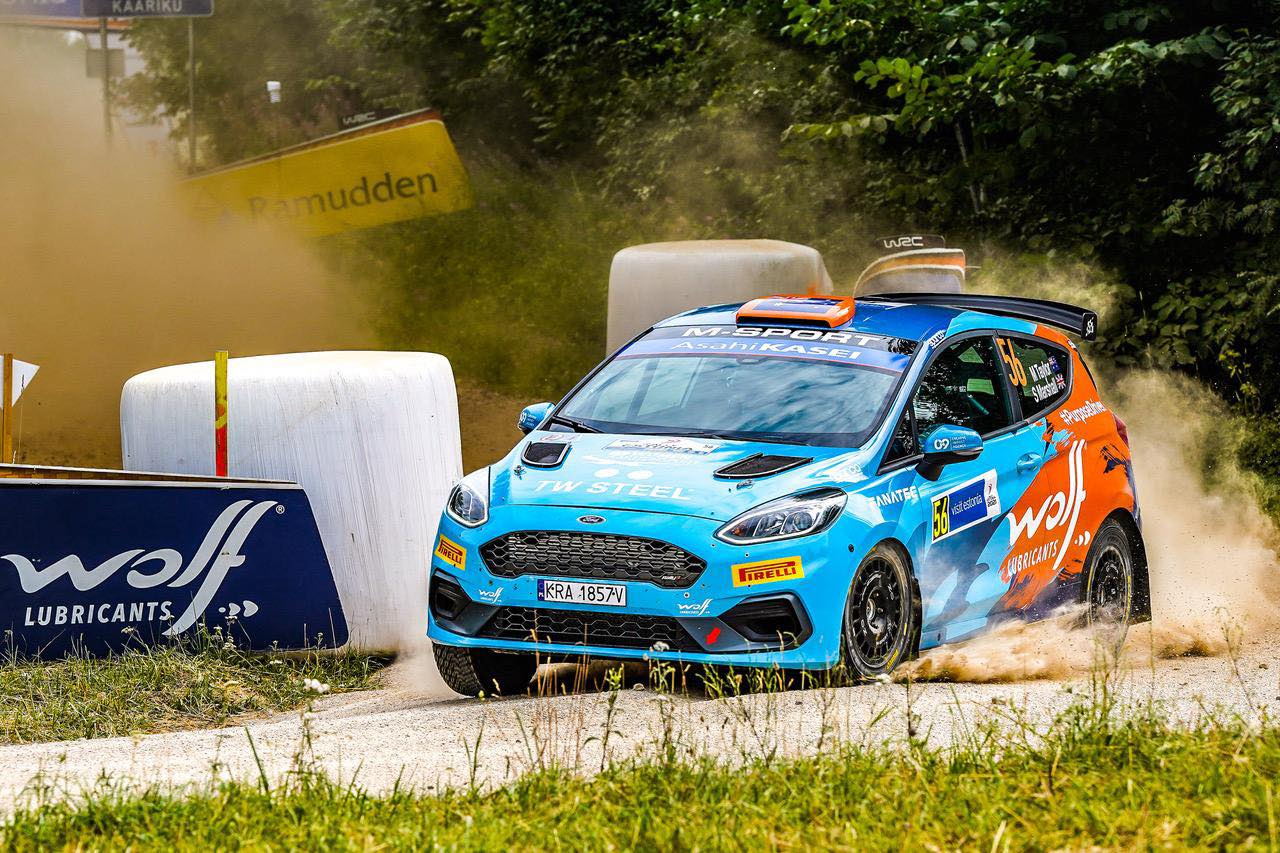 PHOTO: Molly Taylor and Seb Marshall in the Rally3 M-Sport Ford Fiesta – Rally Estonia – Source: Facebook
North Shore Sporting Car Club Member, Molly Taylor, has been exceptionally busy over the past few months, and with a range of different international events on her calendar. For Taylor, the second half of 2021 is packed with excitement.
Taylor last competed in Australia at the Accent Benchtops Rally of Queensland in an Orange Motorsport Subaru WRX STi. With Malcom Read in the co-drivers seat, Taylor was placed third in Heat One, overcoming issues with the rear suspension. A damaged radiator in the second heat on Sunday would see the team making urgent repairs to the car after completing the first three stages, but despite their best efforts, they were forced to retire.
It was straight to the airport following the Rally of Queensland, with Taylor heading to Senegal in West Africa. Senegal, made famous in rally circles because of its capital city, Dakar, hosted round 2 of the Extreme E Racing Series.
After a brilliant drive with Johan Kristoffersson at the first round of the Extreme E Racing, Taylor and the Rosberg X Racing (RXR) team went into the Ocean X Prix round leading the series. The RXR team were competitive from the outset, securing a place in the final and ultimately winning the event. They now lead the series with 71 points, 14 points in front of Cristina Gutiérrez and Sébastien Loeb from X44 Racing.
Taylor was thrilled with another win, saying: "It feels so good to take our second win of the season in Senegal. The semi-finals were wild because of the course here on the beach and the close racing, but we really enjoyed it, and it got us even more pumped for the last race. The Final was my first time racing wheel-to-wheel at the start of a race and getting the inside line heading into Turn 1 was really important. From there I just had to bring the car home for Johan to jump in and do what he does best for the second lap."
"The win didn't come easy", Taylor continued. "And it's been a great reminder of how competitive this series is, but that makes this victory even more special. We'll savour the moment and look forward to the next race in Greenland."
The next event for Taylor was the WRC Rally Estonia, driving for the M-Sport Poland team in an all new four-wheel-drive M-Sport Ford Fiesta Rally3. In the leadup to the event, Taylor said she was happy to be getting the band back together, referring to re-joining with co-driver Seb Marshall for three WRC events.
"I'm really excited to have this opportunity and get back to some of my favourite WRC events in Finland, Estonia, and the Acropolis, which has always been on the bucket list. We've been working towards this programme for a while, so it seems like it's been in the distance for so long. You don't want to get too excited, because you're always trying to put programmes together, and it's often that nothing happens. Then it all started to come together, and it looked like it was finally happening."
"Now it's coming around really soon, so it's pretty surreal. It's exciting to be a part of the beginning of the [Rally3] category and I think, from everything that I see, it looks like a really good package, so I'm really excited to give it a go", she continued.
"When this opportunity with the new Rally3 car came up, I think it was a combination of all the little things that just fell into the right place, and so when the opportunity arose, it was possible to jump at it. I always wanted to get back into the WRC. I feel like it's been many years of trying to get to an opportunity like this – that I was trying for back in 2012 – but I'll take it now!", Taylor concluded.
But things didn't go according to plan in Estonia, and a crash on stage 4 would see Taylor and Marshall retire with a badly damaged M-Sport Fiesta.
In a Facebook Post, Taylor announced: "Gutted to say we are out of Rally Estonia. On stage 4, I ran a little wide on a very fast section and caught a drainpipe hidden in the ditch. Doesn't take much over here to have a big one. Certainly not the start to our program we wanted and I'm really sorry to the team and all our partners for this mistake . Seb and I are OK. Thank you for all your messages and support through both the good times and the bad."
The other WRC events Taylor and Marshall will be seen at in addition to the Rally Estonia will be the Acropolis Rally Greece from the 9th to the 12th of September and then Rally Finland from the 1st to 3rd of October.
But there will be little time to think about what could have been in Estonia with Taylor heading straight to yet another challenge. She is entered in the Baja Aragón Rally, based out of the city of Aragon, Teruel, located in eastern Spain.  The 824km Baja style cross country rally raid event takes place on the 23rd and 24th of July and Taylor will be driving a South Racing prepared Can-Am Maverick X3.
The opportunity to drive the buggy style vehicle in Baja Aragón came about through an invite and she will be joining with rally raid and Red Bull Off-Road Junior Team Co-Driver Dennis Zenz. Taylor met Zenz while testing prior to Estonia where he had been co-driving for Fabio Schwarz, son of rally driver Armin Swartz.
There are other testing and driving opportunities in the pipeline for Taylor, but her focus will be on the remaining two WRC events, and of course the next Extreme E Series on the snow and ice surface at Arctic X Prix on the 28the to 29th of August in Kangerlussuaq, Greenland.
To keep up with all of Molly's adventures, you can follow her Facebook Page or visit her website.
Molly Taylor and Seb Marshall – Rally Estonia – Source: Facebook