Well known Event Clerk of the Course for the AMH Group Rally of the Bay, Ian Bigg, and well known rally coordinator Allan Vaughan have been announced as the Stewards for the Whiteline Tarmac Rallysprint.
Both these men have an enormous amount of experience at CAMS events and are well known to many teams as friends in NSW.
"It's important we break down the barriers with CAMS compliance and help of organisers to see the benefits of Stewards."
"Often people are scared off or don't know what they do until the proverbial 'hits the fan'." Event Clerk of the Course, Brett Middleton.
"Both Ian and Allan are also heavily involved in the WRC at Coffs Harbour and have helped me and the club immensely in the small details that make this event so successful" Brett added.
Ian Bigg
Steward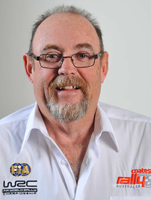 Alan Vaughan
Steward