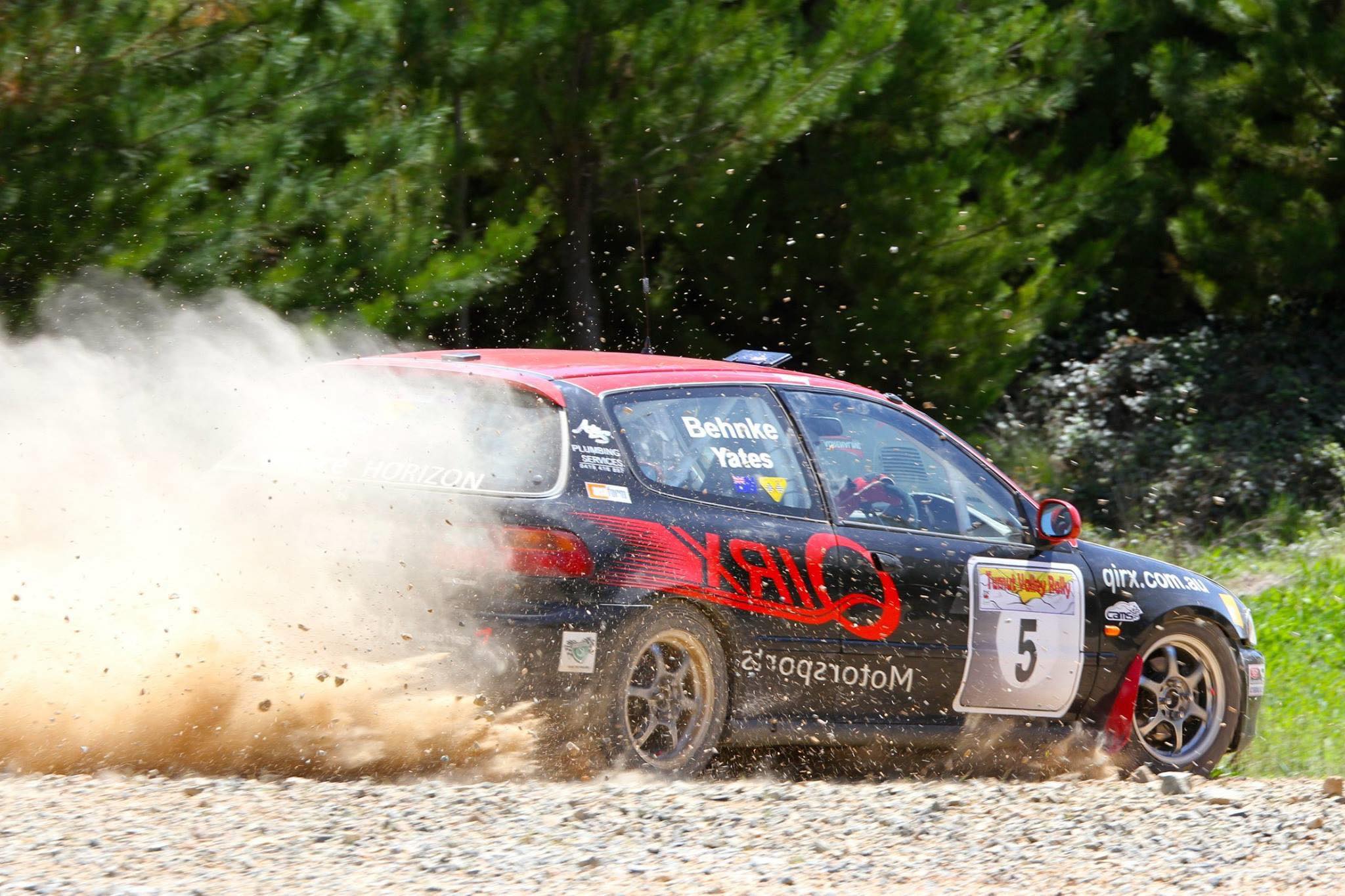 Following a five-year hiatus from being behind the wheel, the Rally of the Bay on the 4th of July is set to see the return to the driver's seat for Canberra rally competitor Mike Behnke.
Over the past few months, Mike's revitalised Honda Civic, which is undergoing a ground up refurbishment, has rapidly taken shape thanks to the help of members of the Light Car Club of Canberra and the Qirx Motorsports team. The group of enthusiastic teammates and supporters has been working late nights, early mornings and weekends to transform the Civic from what was a freshly painted shell just two weeks ago, into a car ready to take to the start line.
Mike is no stranger to club level motorsport. Since stepping back from rally driving in 2015 he has remained active in local car clubs, has dabbled in circuit racing, and continued competing on the dirt from the passenger seat, co-driving for drivers such as Blake Stevens, Meng Chung, Matt Thompson, Anna Ritson and Hannah Stevens.
"I enjoy navigating and contributing in other ways to the sport I love" Mike said. "But I've known for some time that it was time to get back into the driver's seat in my own car. I think many others have felt the same and have been encouraging me to do so," he continued.
"It's been incredibly humbling for me to have so many people from the rally community come out in force and help us get back into the forest. To have people actively seeking to help, and willing to take on any tasks, from rebuilding the engine to cleaning and preparing suspension components, is just so appreciated."
"In my role as President of the LCCC I have witnessed first-hand the hard work and dedication of LCCC members, so I shouldn't be surprised. Members of the rallying community are always willing to assist each other, not just with their own cars, but to get other people to events, and keeping them going at events."
Mike also pays tribute to both Denis Stevens, owner of Qirx Motorsports, and his son Blake, both of whom have shared the highs and lows of rallying with Mike over the years.
"Denis and Blake have an unwavering enthusiasm for rallying, and we have achieved so many personal and competitive successes over the years. I look forward to contributing to our list of achievements as a team once again," Mike added.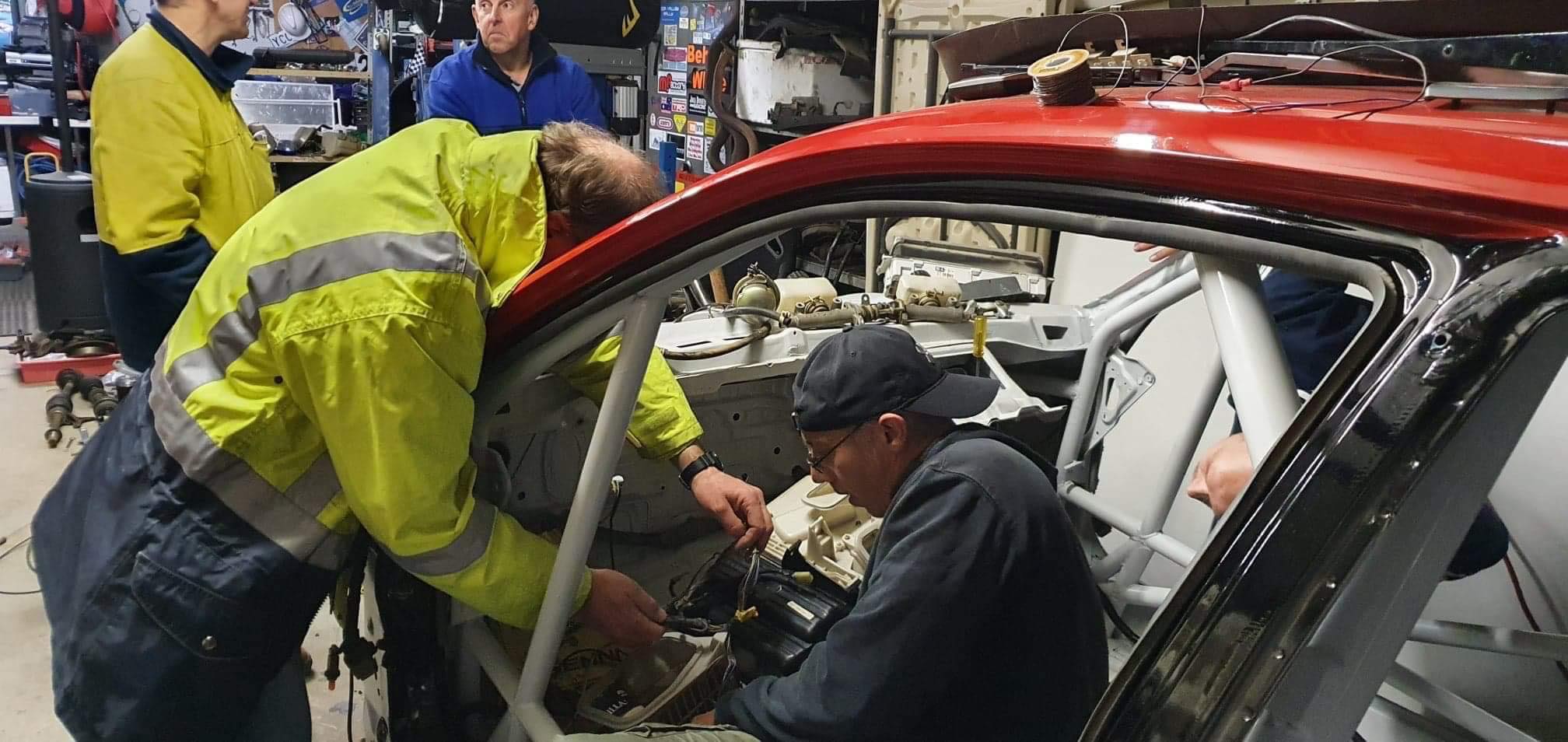 The thought of competing again as a driver was already on the radar for Mike when he and his driver Matt Thompson were incredibly fortunate to escape a serious crash at the Alpine Rally of East Gippsland in November last year. The crash destroyed the car, and seriously injured Matt. An awareness of the level of safety gear that saved their lives has been a key aspect of Mike's preparation of the Civic, and no expense has been spared in the preparation of the car.
"We were very lucky that Matt's car stood up so well to what was a massive hit" Mike recounts. "Since the crash, it has been widely publicised that we'd been supplied with counterfeit safety harnesses, and mine failed on impact. So I'm very lucky."
Mike has dealt with the emotional recovery from the incident by reflecting on the lessons learnt, rather than the accident itself.
"It just goes to show that spending money on safety gear is really an investment in your future. Trying to save a few bucks is meaningless if you're not around to enjoy it. Buying equipment from a reputable supplier is critical as there are some very passable counterfeit equipment doing the rounds," he said
Ellie Yates is Mike's partner and co-driver for the upcoming rally, but does Mike believe the car will be ready?
"We still have a fair way to go to get to the start line for the Rally of the Bay, but each day I am more confident that we'll make it. I may just not be getting much sleep between now and then! I've said to Ellie that it should all come together for the event. Hopefully, it's not just me trying to convince myself!" he laughs.
The AMH Automotive Group Rally of the Bay is the first ACT/NSW rally event to be held in the wake of the COVID-19 pandemic, and a bumper field is set to take on the challenging forest roads around Batemans Bay on the 4th of July.