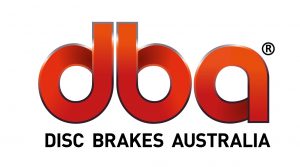 Leading brake manufacturer, DBA joins as a level one partner at the Whiteline Tarmac Rallysprint series.
"This event is a perfect way for us to support our clients and help people improve their cars" said Graham Brown from DBA.
"The 2016/17 summer series will provide some exciting motorsport, right in population centre of Sydney. North Shore Sporting car Club and their team should be congratulated for success it has achieved with this event" he added.
Through continual research and development over the past four decades DBA has positioned itself as a leading Global brand and Australia's most awarded manufacturer of Brake Rotors.
It is a thirst for innovation and quality that has allowed DBA to consistently redefine and deliver braking solutions for an extensive range of vehicle applications and conditions.
The patented Kangaroo Paw vent technology is testament to DBA innovation.
This patented ventilation system provides a much more efficient method of keeping rotors cool under the heaviest of braking applications by increases cooling efficiency up to 20% when compared with most other conventional ventilated disc rotors.
By sharing all the technology that DBA can offer, we are now witnessing the ultimate in performance direct OE replacement discs.
This includes a Tri-Symmetrical, T3 slot design dampening harmonics, increasing responsiveness and improving that all important pedal feel.
The 6061-T6 Alumalite hats on the Club Spec 5000 T3 rotors are critical for reducing unsprung weight and rotational mass.
Our Flat Disc range of products is ideally suited to the high end global performance vehicles. This product typically suits the upper level of prestige performance vehicles that are delivered with factory fitted two-piece rotor designs as standard. The DBA replacement ring or disc comes with all the outstanding features of the DBA 5000 series products and is available as a direct replacement for vehicles such as the EVO 10, Nissan GTR, Mercedes AMG, Audi RS, HSV and FPV. DBA, The ultimate brand in performance direct OE replacement discs.
MORE INFO www.DBA.com.au
More information on the Whiteline Tarmac  rallysprint series here