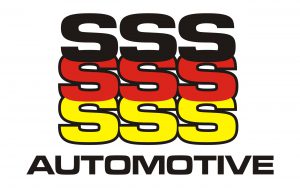 Introducing SSS Automotive, our latest partner for the Whiteline Tarmac Rallysprint series.
SSS Automotive is a specialist parts importer for Japanese vehicles.
Stocking high performance, standard and hard-to-find parts for imported and locally delivered vehicles including Nissan Syline GTR, GTS and GTST, Nissan Silvia, Toyota, Honda, Subaru, Mitsubishi, Suzuki, Isuzu, Daihatsu and Mazda.
SSS Automotive have an established yard and reliable buying networks in Japan. Their experience in Japan benefits you enormously. They travel there regularly and hand-pick and pack all of our stock including low kilometre engines and half-cuts. This ensures that our parts are of the highest quality and means we can confidently stand behind our warranty to you.
SSS Automotive stock performance engines (turbo and non-turbo), half cuts (front and rear), wheels in a variety of sizes, and thousands of used parts and panels to suit a variety of applications for street and race use.
MORE INFO www.sssautomotive.com.au
More information on the Whiteline Tarmac  rallysprint series here